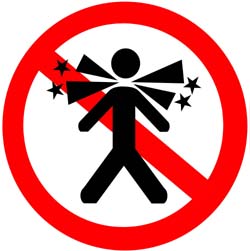 A Pain In The Neck
Sitting in front of a computer all day can be a pain in the neck…literally. There are five straightforward changes you can make to your office environment that may give your back, neck, eyes and also wrists a break.
1. Use a desk or an adjustable computer workstation that is ergonomically sound. Look for a work surfaces that are non-reflective. If you have a glass desktop, you can easily add a desk pad to minimize the amount of glare and a pullout or "banana board" keyboard tray. An articulating keyboard tray makes it easy to adjust your keyboard to the height level that best fits you.
2. Use a correct office chair that boasts ergonomic features that supports your back and manages weight distribution. Ergonomically correct chairs have become increasingly more reasonable in price; especially considering desk chairs with ergonomic features are less expensive than before and offer a few features found in higher-end chairs.
3. Keep the most frequently used office supplies within reach to avoid straining your back. Often times you may find yourself in a pretzel like pose to obtain what you need, store items logically and within arms reach.
4. Minimize eyestrain and fatigue by selecting one of several lighting options. You can use ambient or general lighting, fluorescent lighting, natural lighting, task lighting etc. You can use one or a combination of these lighting sources to achieve the right amount of light for your workspace.
5. Reduce the risk of Carpal Tunnel Syndrome by using an wrist rest that's ergonomic, mouse, and adjustable and articulating keyboard. Wrist and mouse rests made from foam-like and gel materials, are available in stylish colors and fun patterns.
The final key to giving your body a break: remember to take breaks throughout the day, especially if you stay in the same position for a long period of time.
Contact a Guidon representative today for more information on setting up ergonomic work environments for your people.